---
Simplify Dinner Time with Dinner Thyme Solution....
where we do the menu-planning, shopping, chopping and cleanup.
You simply come to our kitchen and in less than 2 hours, assemble 8-12 delicious entrees to your taste using fresh healthy ingredients. Take your ready-to-cook dinners home, store in the freezer, then cook as needed. New menu every month adds delicious variety to your family dinners. We will even assemble your order if you don't have time to come in for a session. Delivery is also available.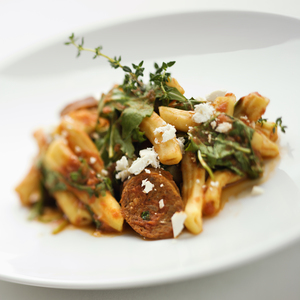 ---
The Holiday Season is here (wheres the snow?) and our December menu is loaded with time saving entrees to take the stress out of preparing delicious meals for family and friends.
THIS IS OUR LAST WEEK WITH OUR DECEMBER MENU AND OUR LAST WEEK OF THE YEAR! BOOK YOUR DECEMBER SESSION AND WE INCLUDE A COLORFUL DISH SCRUBBY WITH YOUR ORDER.
We are continuing our tradition and offering our Holiday side dishes!
Pickup time is Saturday, December 20th between Noon and 3:00pm or Tuesday the 23rd between 10:00am and Noon. Sides picked up on Saturday will be frozen so we recommend putting in refrigerator on Tuesday to defrost safely so they are ready to cook Christmas eve or Christmas day. Tuesday pickups may not be frozen.
Don't miss out!
---
Give The Gift of Thyme
A Dinner Thyme gift certificate is a perfect Christmas gift for everyone on your list. Who doesn't appreciate the gift of time especially during the holiday season. Certificates can be purchased for a dollar amount or a specific package. Come and finish your Christmas shopping at Dinner Thyme and we will give you a gift for your thoughtfulness.
yone
---
I wanted to take a moment to tell you how wonderful your food is and what a great experience I had preparing it! Before finding Dinner Thyme Solutions, cooking for myself was a dreaded task that had become a boring rotation of salads and organic, over-priced frozen meals from the grocery store. After eating only 3 of your entrees (haven't gotten to the others yet!) I will never buy another frozen meal from the grocery store. (I even threw out the one frozen meal I had left in the freezer, which is telling as I am very frugal but didn't even hesitate in throwing it away. I didn't want to waste my tastebuds on something tasteless when I had your dinners in my freezer!)
Your food is fresh, with perfectly balanced seasonings and the serving sizes are spot on. The cooking instructions are simple and straight forward. I find it to be a wonderful reward to come home from a long day teaching and know that I can cook up a fantastic meal with little time or effort.
As for my experience preparing my entrees at your store, it was fun and fast. 8 mini entrees prepped, packaged and me out the door in an hour. Wow! I brought my mom and we had so much fun.
You are a hidden gem in Boise! But not for long because I plan on shouting it from the rooftops, "Dinner Thyme Solutions is your solution to enjoying a wonderful meal while saving time and money!" Kudos to you!! Thank you, thank you!! I will be back (repeatedly). Katie M. Nov 2013
---